Curated List
These Aren't Homes, They're Tombs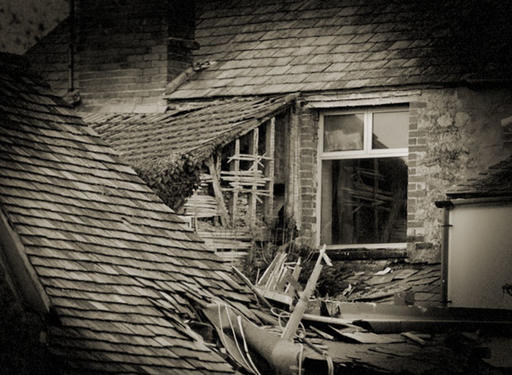 Throughout history, tombs and mausoleums have been constructed to resemble houses. In fact, in prehistoric times, the dead were actually buried inside of their own homes. Tombs were often filled with food, possessions, tools, and other necessities needed for the next life. Fast forward to the 21st century and take a look at these three tombs, er... homes.
3
reported properties in this list

Hoarder mom possibly unaware of son's corpse in her own home for 20 years. The chilling discovery of the skeleton was made Sept. Cobwebs and garbage filled the room where the body was found — as if "a garbage truck had dumped its load" inside, police sources said. No one answered multiple calls to the home phone. Authorities have not officially identified the body but believe the man was Wolfensohn's son and that he died of natural causes. Relatives said they had not seen Louis — who today would… View Listing »

A reclusive mother and daughter lay dead in their ramshackle home for at least six months before their bodies were found, an inquest has heard. Caroline Jessett, 50, placed her mum's body in the bathtub of their home before she died in her bedroom some time later. Pauline Jessett, 78, was last seen by a district nurse nearly two years before her remains were discovered, while daughter Caroline's mummified corpse was in her bedroom for six months to a year. View Listing »
Man's body found decomposing in home: The body of Peter Wald, 51, was discovered by an employee of a foreclosure company. It is estimated that the body had been in the house for months, during which time Peter Wald's wife, Kaling, and their children still lived in the residence. Peter had refused to go to the hospital to treat an infected left foot, deciding God would cure him, and died at 51 after slipping into a coma. Kaling kept Peter's body sealed in a bedroom after his death, while Kaling's… View Listing »
* Please note that since the information on Housecreep is user-submitted, coverage varies greatly from location to location. The number of properties listed for a city is not a complete representation of how many stigmatized properties may actually exist there. The more traffic we receive from different parts of the world, the more submissions and contributors we get for that particular location. If you would like to see better coverage in your area, here's how you can help support us.
Community Reporters
Members of the Housecreep community who have submitted one or more reports included in this list
The Vault
Find the exact addresses of 27,000+ murder homes, famous houses, allegedly haunted houses, and other noteworthy properties from all over the world.
Our Community
Meet our community of sleuths