Curated List
5 Homes from the Movies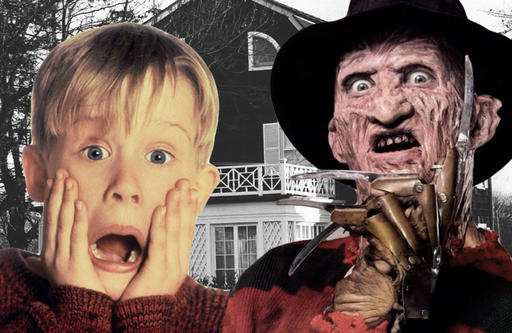 Often times, we tend to enjoy movies, not for the story or the actors, but for the memorable homes featured in them. For instance, we all remember the red brick colonial Georgian house from Home Alone. You might be surprised to learn that some of the homes seen in Hollywood's most iconic films are actually right in your neighborhood. Here are 5 memorable homes from some of your favourite films.
5
reported properties in this list

The Amityville Horror House: Ronald DeFeo Jr. murdered six family members as they slept in 1974 - his mother, father and four siblings. In 1975, George and Kathleen Lutz moved into the property, along with their three children. The 28 supposedly haunted days in the house experienced by Lutz's spawned the 1977 bestselling Jay Anson book "The Amityville Horror: A True Story" and a number of horror movies inspired by the events. The address was changed from 112 to 108. View Listing »

This house was featured in the iconic Bill Murray film Groundhog Day as "The Cherry Street Inn". It is a beautiful Victorian built in 1894 by a lawyer named C.P. Barnes, who later became a judge. He and his wife and two children lived there until 1914, and other owners began to come and go, making memories and making changes. Now, packed neatly into the house's 5,815 square feet sitting on one acre of land, are seven bedrooms and eight bathrooms, three fireplaces, parlor, dining room, kitchen an… View Listing »

Nightmare on Elm Street House: For horror movie buffs, you might recognize this house from Wes Craven's "Nightmare on Elm Street" - the place where fictional character, Freddy Krueger, haunted dreams. The fictional address of the house that appears in the film is 1428 Elm Street in Springwood, Ohio- as opposed to its actual location in Los Angeles. View Listing »

The McCallister House from the Movie "Home Alone": In the suburbs of Chicago, exists this beautiful 4,250-square-foot Georgian style home that was made famous by the 1990 film "Home Alone" directed by Chris Columbus and written by John Hughes. The home was bought in 1988 for $875,000 and then listed over 20 years later in 2011 with a $2.4 million asking price. The property eventually sold in 2012 for $1.6 million. Fun fact for Home Alone fans - Old Man Marley's house, next door to the McCalliste… View Listing »

Mansion from the 1972 movie classic "The Godfather" for sale: A New York City mansion featured in the 1972 classic "The Godfather" is up for sale with a $2.89 million price tag. In actuality, director Francis Ford Coppola only used its English Tudor-inspired exterior for the movie. The current owner has reportedly remodeled some of the rooms to resemble those used in the film. Some people may be willing to pay more for a home with a compelling story according to the managing realty company. View Listing »
* Please note that since the information on Housecreep is user-submitted, coverage varies greatly from location to location. The number of properties listed for a city is not a complete representation of how many stigmatized properties may actually exist there. The more traffic we receive from different parts of the world, the more submissions and contributors we get for that particular location. If you would like to see better coverage in your area, here's how you can help support us.
Community Reporters
Members of the Housecreep community who have submitted one or more reports included in this list
The Vault
Find the exact addresses of 27,000+ murder homes, famous houses, allegedly haunted houses, and other noteworthy properties from all over the world.
Our Community
Meet our community of sleuths