A crowdsourced, historical record of
200 Tecumseh Street
Does
200 Tecumseh Street

have a dark past?

This listing contains user-submitted reports documenting historically significant events and personal experiences at 200 Tecumseh Street, Winnipeg, MB, CA, including reports of criminal activity, homicides, deaths, famous residents, and alleged paranormal occurrences. If you have more information about this address, let us know.
Information Reported
Grow operation arrests: 200 block of Tecumseh Street- The following was located and seized: 199 marihuana plants - estimated street value - $222,880.00 Grow operation equipment – valued at $8,490.00
---
Have something to say or share about 's report?
Nearby
Properties in the Housecreep database that are near 200 Tecumseh Street

Shawn Lamb admitted to killing and disposing of the remains of a winnipeg woman named Carolyn Sinclair. Sinclair was only 25 years old at the time of her untimely death. Carolyn had been murdered in Shawn Lamb's suite on December 18th, 2011. Lamb later on admitted he had left Carolyn Sinclair's remains in the bathtub for several days before dumping the victim's body in a nearby dumpster... Another important fact to add to this was that Carolyn Sinclair was five month's pregnant during the tim… View Listing »
Property used as a marijuana grow op: Residence listed by the RCMP as a grow op site. Yip, it's still s place where drugs are sold everyday View Listing »

Body discovered in backyard: The body of Lorna Blacksmith, 18, was found wrapped in plastic, in the back yard of a vacant house. The body had been there for months. View Listing »
Grow Op Seized: This property was raided and seized as a grow operation. View Listing »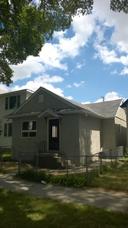 Property used as a marijuana grow op: Residence listed by the RCMP as a grow op site. Home renovated. This is a NEW house sit on an old foundation. The house and the garage has been completely rebuilt in 2013 & 2014 resulting from fire insurance claim September 2012(Insurer INTACT, Policy Number 501211443, Claim number 0568843). See photos for details. The construction meets the latest building code having 200 AMP service, all PVC plumbing, and HVAC in place. All permits pulled(Permit Applicat… View Listing »
The Vault
Find the exact addresses of 27,000+ murder homes, famous houses, allegedly haunted houses, and other noteworthy properties from all over the world.
Our Community
Meet our community of sleuths