Recent Reports
On May 12 1943 a mother and her two children died of carbon monoxide poisoning.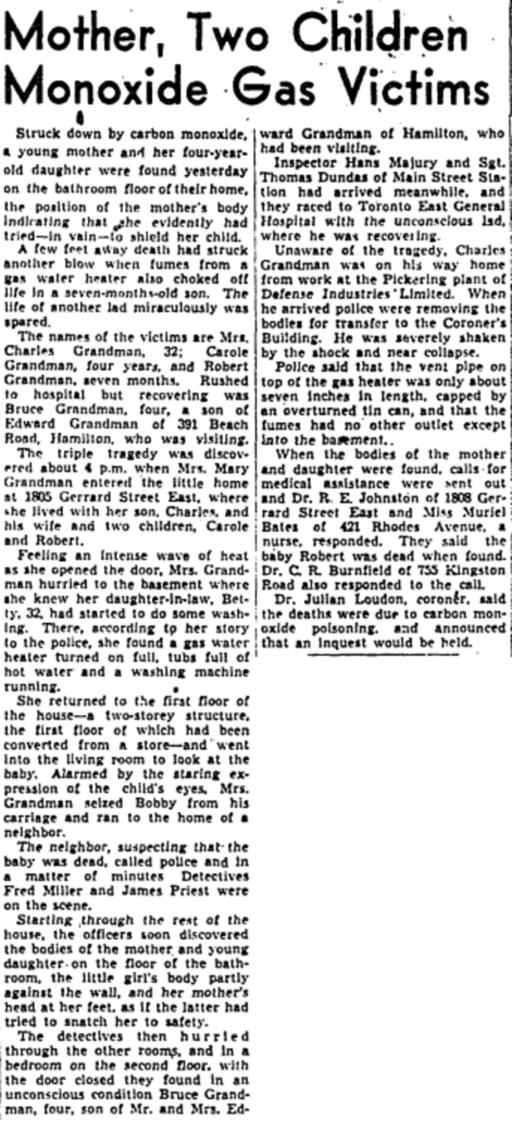 ---
Have something to say or share about 's report?
On the morning of 14th January 1963, 43 year old Daisy Zick was brutally murdered whilst at home getting ready for that day's shift at the Kellogg's factory in Battle Creek, Michigan. Neighbours had witnessed a male individual leaving the premises after the murder was committed, but did not consider this noteworthy at the time due to Mrs Zick's tendency to engage in extramarital affairs with local men. The mystery man had been heavily clothed due to the extreme weather conditions and was therefore unidentifiable to eyewitnesses. Evidence has shown that Daisy initially confronted her attacker in the kitchen, after which point she likely tried to contact the police but her attacker then severed the phone line with a sharp object. Following this, it seems Daisy fled to the bedroom where she was hit forcibly over the head. The assailant then produced the rope tie from Zick's bathrobe and bound her hands before brutally stabbing her multiple times. However, rather than succumbing to her injuries, she managed to instead put up a struggle and fled into another bedroom. It was there that Daisy lost her life, as her murderer followed closely behind and stabbed her repeatedly and aggressively in the stomach. The killer then fled the crime scene in Daisy's car but soon after abandoned it and disappeared undetected. Based on an analysis of her wounds, it became apparent that her killer had sat astride her body and fatally attacked her from that position. The injuries were also consistent with that of a Spoilage blade, which were common tools in the Kellogg's workplace at the time. Interestingly, there were no signs of forced entry, indicating that Daisy likely let the killer into her home and was therefore acquainted with the individual. Daisy's husband, Floyd Zick (pictured above), was cleared of any involvement after successfully passing a polygraph test; although this method of determining guilt would nowadays be deemed greatly inadequate. One key suspect at the time had been postman William Newman Daily, a violent tempered individual who had previously made comments about seeing Daisy naked in her home. Daily had allegedly even threatened to "do to another woman what had been done to Daisy Zick." There was also a similarity pointed out by eyewitnesses between his hairstyle and that of the man seen driving away in Daisy's car after the murder. He also owned a coat that matched the one worn by the mystery man at Daisy's home the day of the murder, after which point it was noted Daily had stopped wearing his. However, speculation of William Daily's involvement never came to fruition as he refused to take a polygraph up until his death. Over 50 years later, the murder of Daisy Zick remains unsolved and looks likely to stay that way due to the period of time gone by since the crime took place. Considering over half a century has passed, there is entirely the possibility that Zick's killer may now be dead themselves.
---
Have something to say or share about 's report?
The Vault
Find the exact addresses of 27,000+ murder homes, famous houses, allegedly haunted houses, and other noteworthy properties from all over the world.
Our Community
Meet our community of sleuths by joining us on Patreon or Discord