Curated List
How an Insane Asylum Shaped this Toronto Neighbourhood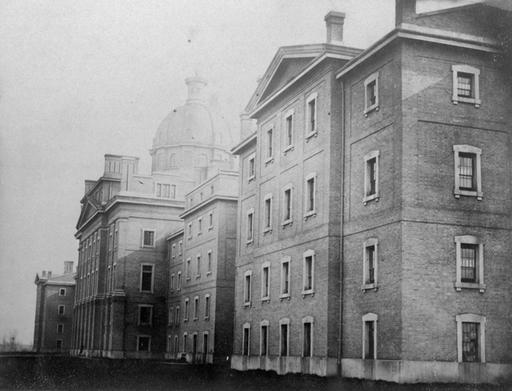 When John Howard designed the Provincial Lunatic Asylum in the 1840s, he envisioned a state-of-the art facility. However, when the facility first opened in 1850, it was understaffed, underfunded, and plagued by overcrowding and pollution that blackened the walls. The institution's negative reputation followed it well into the 20th century, inspiring several name changes. The address itself was even changed from '999 Queen' to '1001 Queen' in 1979. Meanwhile, the bordering neighbourhood of Parkdale was establishing a reputation of its own, particularly South Parkdale. Once known as an affluent neighbourhood with beautiful Victorian mansions, Parkdale began its decline during The Great Depression, and by 1941 many of those stunning mansions had been converted into multi-family dwellings. In fact, 62% of houses constructed as single-family dwellings had multiple household occupancy, twice Toronto's average at the time. Parkdale was dealt another unfortunate blow when it was cut off from Lake Ontario by the Gardiner Expressway in the late 50s, which saw the neighbourhood's middle class shrink and many of the mansions demolished to make way for the Expressway. Many homes were also demolished in favour of high-rises funded by federal housing programs. It's the late 1970s and South Parkdale has been regarded as a slum for over two decades. The Provincial Lunatic Asylum, or the "Queen Street Mental Health Centre", as it was called during this time, was trying to distance itself from its stigmatized past. Lakeshore Psychiatric Hospital in nearby Mimico was shut down and partially re-merged with the Queen Street facility. Still suffering from overcrowding, the provincial government decided to release many of the patients in favour of community-based care. While a nice idea in theory, the deinstitutionalization of patients was not properly thought out and many mentally ill men and women were left to their own devices without adequate housing or care. Many of Parkdale homes that had been converted to multi-household dwellings, were now used as boarding or rooming houses. In addition, many rooming house units were converted into illegal 'bachelorette' mini-apartments that simultaneously contained sleeping, living, and dining space, with a separate bathroom. By 1985, most former patients were living in unofficial boarding houses, with only a small number living in the 39 official group homes in the neighbourhood. Instead of being treated as people in need, the community saw former patients as 'crazy' and dangerous. Parkdale's already unfavorable reputation worsened, with the neighbourhood increasingly being associated with poverty, crime, drugs, and homelessness. Taking a quick look into Housecreep's vault, it's easy to see that although Parkdale has experienced some gentrification in recent years, the neighbourhood is still plagued by many of these same issues.
5
reported properties in this list
* Please note that since the information on Housecreep is user-submitted, coverage varies greatly from location to location. The number of properties listed for a city is not a complete representation of how many stigmatized properties may actually exist there. The more traffic we receive from different parts of the world, the more submissions and contributors we get for that particular location. If you would like to see better coverage in your area, here's how you can help support us.