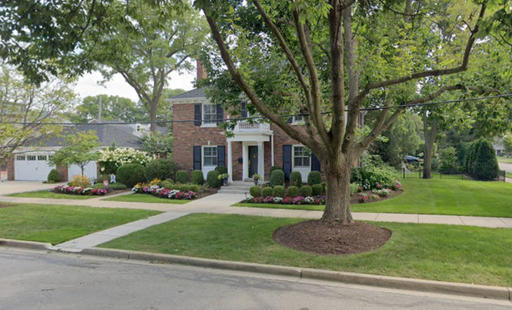 A crowdsourced, historical record of
311 South Cottage Hill Avenue
Does
311 South Cottage Hill Avenue

have a dark past?

This listing contains user-submitted reports documenting historically significant events and personal experiences at 311 South Cottage Hill Avenue, Elmhurst, IL, US, including reports of criminal activity, homicides, deaths, famous residents, and alleged paranormal occurrences. If you have more information about this address, let us know.
Information Reported
May 2nd, 1976 David Hamby age 23, fatally stabbed his father John Hamby, a patent attorney, age 53. The attack began in the home then led outside to the street in front of the house. The elder Hamby suffered several stab wounds to the upper body and one to the neck.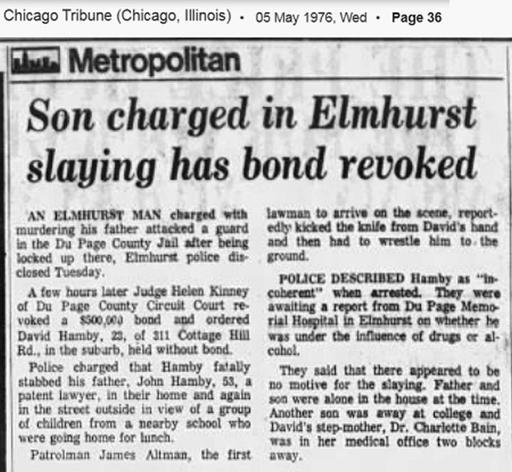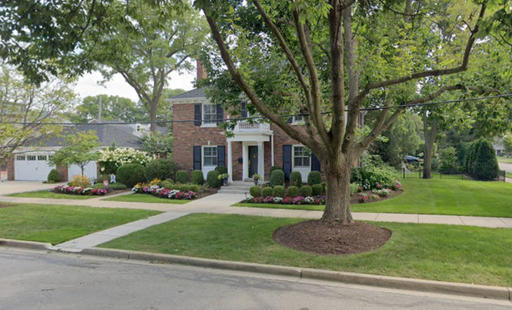 ---
Have something to say or share about 's report?
No news articles or other online sources have been referenced.
Nearby
Properties in the Housecreep database that are near 311 South Cottage Hill Avenue
Double homicide: Hults, Jesse D. Age 47 Patrolman Fatally shot at 11:45 AM, 9/25/29 and Patrolman Wm. Gallagher killed, in the hallway of 4139 South Parkway, while investigating a reported kidnapping of Charles Kirkman, colored leader of the Moorish Science Temple, a Negro cult, from his house at 442 Elm St. When the officers demanded admittance they encountered a heavy gunfire. The inmates were dislodged with tear gas bombs and one, Deason Stephens, who shot Hults, was killed by Patrolman Frank… View Listing »
Man shot to death: Watts, John - Age 41 - Colored - Died from a gunshot wound received 6/1/26 at home, 3035 South Parkway, at the hands of his wife's cousin, Lawrence Chaney, with whom he argued. On 6/10/26 Chaney was exonerated by the Coroner. 2 Dist. View Listing »
Man shot to death: Haymaker, Fred Age 23 Colored Together with Charles Powell, colored, were shot to death at 3:15 AM, 8/17/29, in a sporting house at 4240 So. Parkway, by Patrolman Geo. M. Marnkowski and Wm. J. Simpson, at whom they fired while resisting arrest. The Negroes met the officers of whose identity they were ignorant, and brought them to the flat. On 8/20/29 the officers were exonerated by the Coroner. 5 Dist. View Listing »
Man shot to death: Jones, Clifton - Age 32- Colored - Fatally shot 5:30 PM 1/7/27 in rear yard at 3013 So. Parkway, by George Williams, of that address, who found Jones in his home with his wife. Jones shot at Williams while running away. On 1/21/27 Williams who was not booked, was exonerated by the coroner. 2 Dist. View Listing »
Woman stabbed to death: Humburd, Iva - Age 28 - Colored - Stabbed to death at 5:30 AM, in hallway of her home, 4142 South Parkway, during a quarrel, by Rosie Bohanon, who, on 8/30/26 was exonerated by the Coroner who pronounced it "accidental." On 9/14/26 however, she was held to the G.J.in $5000.00 by Judge Curran. 3 Dist. Oct. 1926 No Bill. View Listing »
The Vault
Find the exact addresses of 27,000+ murder homes, famous houses, allegedly haunted houses, and other noteworthy properties from all over the world.
Our Community
Meet our community of sleuths