What's in Your Walls?
Dreadful Home Renovation Discoveries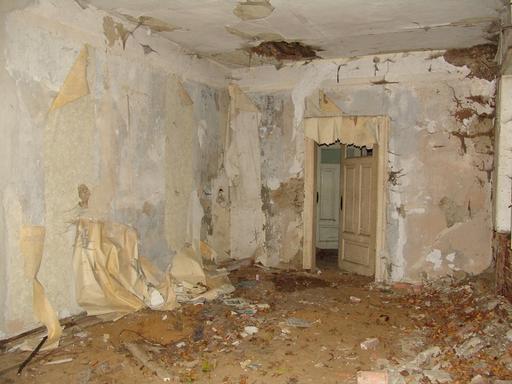 For those of us who have undertaken the daunting task of home renovations, we often fear what we might find lurking beneath the surface. What often starts off as a cosmetic mission can quickly descend into a homeowner's worst nightmare. Structural problems, mold, and faulty wiring are a few of the many unexpected inconveniences that rear their ugly heads. As distressing as these reveals can be, however, they are actually quite average on a spectrum of renovation surprises.

As you sift through Housecreep, you'll begin to notice that other homeowner's discoveries fall outside the norm – in fact, these findings are often so bizarre that they're on their own spectrum altogether. It was a summer evening in Toronto, when Bob Kinghorn of "Dusty Buster Renovations" was doing some work on the house at 29 Kintyre Avenue. The detached home is located in the Riverdale area, and had sold just two months prior to a young couple in their 20's. As Bob went to drill a hole through a ceiling joist to feed through some wiring, he noticed a bundle of newspaper which he originally thought was insulation. After cutting through the newspaper, he was shocked to discover a mummified baby, estimated to be about four months of age. Taking a closer look at the aged newspaper swaddling the baby, Bob noticed a date of September 15th, 1925. The now famously dubbed case of "Baby Kintyre" remains shrouded in mystery.

On June 28th, 2013 a contractor was working on a condemned home at 720 Vassar Road. The owner, James Nichols, a reported hoarder and recluse, had died months earlier. While in the basement, the contractor came across a false wall, and behind that, a sealed container. I can't imagine that the contractor was prepared for what he found next as he opened the container – a full skeleton. In fact, it was the JoAnn Nichols, wife to James. JoAnn, a 1st grade school teacher, had been reported missing by her husband back in 1985. The medical examiner said that JoAnn had suffered blunt force trauma to the head.

So next time you embark upon that ever so exciting process of home renovations – brace yourself, as you never know what surprises your house might have in store for you.
The Vault
Find the exact addresses of 27,000+ murder homes, famous houses, allegedly haunted houses, and other noteworthy properties from all over the world.
Our Community
Meet our community of sleuths by joining us on Patreon or Discord