Pigeons in the Towers in the Park
The (High)rise and Fall of St. Jamestown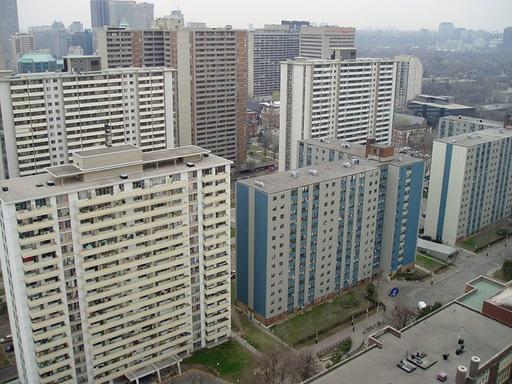 In the late 19th century, St. Jamestown began as a quaint neighborhood filled with Victorian style houses and middle class folks. The area, which is situated in the northeast corner of downtown Toronto (bounded by Parliament, Sherbourne, Wellesley and Bloor), faced a major restyling in 1953 when the city publicized changes to zoning for the downtown core.

Influenced by the French architect, Le Corbusier, Toronto planners began to embrace a vision known as "Towers in the Park". This vision, which saw tall buildings surrounded by park land or green space, would eventually increase building coverage in St. Jamestown making it one of the most densely populated neighborhoods in North America, in addition to the largest high-rise community in Canada. Although originally designed for upwardly mobile singles and professionals, the area lacked appeal and eventually became home to lower income individuals. Immigrants gravitated towards these buildings as they were deemed a more affordable place to start out. Eventually, St. James town populated to a fault. According to the 2006 census, the total population of St. Jamestown hit a staggering 14,666 (over 9000 of which are immigrants), with the majority between the ages of 25 and 64 year and an average income of $22,341.

Over the years, St. Jamestown has become victim to crime and poverty. In fact, Safe Tech Alarm Systems reports that there is, on average, 10.44 people crimes in the area per 1000 and about 24.7 property crimes.

Just perusing through Housecreep, you'll note that the area's high rises have been the subject of many unfortunate and often sinister events. These include, but are not limited to, a man being thrown off a 19th floor balcony, a fatal shooting in a 17th floor stairwell, a major fire, and the like. However, other events have been more odd than sinister – in 2007, following tenant reports of an ungodly smell, police entered a 15th floor apartment at 275 Bleecker Street and were welcomed by hundreds of pigeons flying loose, hundreds of mice and an abundance of excrement. In fact, many of the mice had resorted to cannibalism as the owner neglected to feed them.

So… how did this vision for urban planning go so wrong?

To start, in the 1960's when high rises eventually began to replace Victorian houses, they were designed for individuals or couples, with no dependents. It was always assumed that singles or young couples would start in St. Jamestown and then transition to the suburbs to begin a family. The intention was to design these buildings with all the amenities singles or young couples could want – ground floor shopping, medical, banking, recreational facilities, etc. The above coupled with St. Jamestown's proximity to downtown nightlife and jobs, should have been enough. Right? Or at least the city planners thought so. However, by the time the buildings were erected, the tastes of swinging singles and young couples had changed. The absence of good shopping and nightlife within St. Jamestown was unappealing, and by the 1980's the neighborhood began to erode steadily to present day.

The city continues to strive towards revitalizing a once picturesque neighborhood.
The Vault
Find the exact addresses of 27,000+ murder homes, famous houses, allegedly haunted houses, and other noteworthy properties from all over the world.
Our Community
Meet our community of sleuths by joining us on Patreon or Discord